Tips And Ideas For Starting A New Job As A Remote Employee
Covid-19 has affected so many people and has come with job layoffs. People are desperately looking for remote jobs. Even if you have landed a remote job position, you must wonder what the next step is. You must be wondering how to get to know your colleagues better from behind a screen, or how you would onboard remotely, or get up to speed in your position and duties.
It is very natural to feel this way. If you are not entirely prepared for it, starting a new job remotely can be difficult sometimes. Even though various companies are reopening their organizations and want their employees to come back to the office, there are still many employees who work remotely due to the pandemic. Starting new jobs during covid is stressful and can get to you, let alone starting new jobs remotely covid can be more difficult. It is easier for companies that have a lot of virtual-based employees and remote work. For them, this transition is not tough, but for companies that are not used to preparing employees for their new roles, the onboarding procedure, and having a remote workforce could be stressful. Let's discuss some tips and ideas that will help you with your new remote jobs.

Being Understanding And Flexible Helps
Try to have patience and calmness with your new employer. Try to understand that the onboarding procedure is not exactly perfect and that it is complex for both parties. Starting a remote job at a time when your colleagues and bosses are also trying to get used to working remotely, and that you are all going through various different stressors such as a global pandemic might make it a little more complicated and challenging. It can take some time for you to be comfortable and socially confident at your new workplace.

Establish Strong Relationships By Getting To Know Your Colleagues Better
A job requires meeting new people and team members, especially when it's a new job. This process becomes difficult and might take longer when you are working remotely. This needs more of your time and effort, even if your Hr or manager sent out an introduction email. You should ask your manager to provide you with a list of all the team members and major stakeholders that you would want to connect with and get to know better.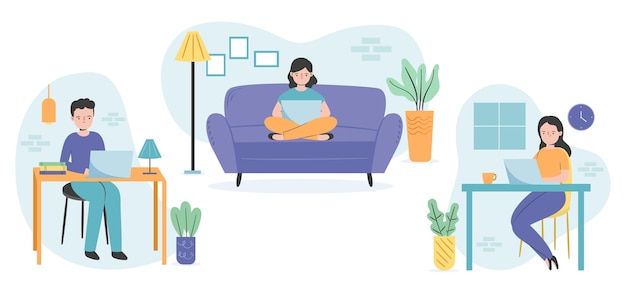 Then you can follow up with these colleagues to set up virtual meets to ask questions about their duties and responsibilities, what are their opinions regarding the company, the projects they are working on, and also share some information about your work and role.

Prepare Yourself For A Different Kind Of Onboarding Process
Due to the pandemic we are experiencing, the onboarding process for your new job profile will most probably be held over a video communication platform such as the zoom application. Try to reach out in good time to find out what the procedure will be like for you. Email your new manager and send a message to your Hr contact or recruiter to show that you are aware that because of the pandemic, the organization is working remotely and ask how they are dealing with the arrangements of onboarding.

Understand How The Team Communicates
While everyone in your company is working remotely, it is important to know how the team prefers to communicate. This way you know whether to monitor slack messages, emails, or other platforms to communicate such as zoom calls. You need to keep in mind that many of your team members are still trying to figure out their preferences as they get used to new routines.
Understanding a sense of your new colleagues' preference of communication will make it comfortable and easier for everyone to understand each other and foster productive and positive interactions.

Understand The Expectation Of the Role And Asking Important Questions
If you are starting a new job that was not supposed to be remote, taking the extra time to understand your team's and manager's expectations about everything from overall onboarding to individual duties is very important. Since your team members and manager will not be in the same office building to chat through concerns and questions, it is vital to start open communication to know how you can add value to your company and your responsibilities.
Within the first few weeks of your onboarding process, try to go over aims that you are looking to attain within thirty, sixty, and ninety days with your superiors, as they plan things for you accordingly. To make sure that you and your boss are on a similar page regarding your growth and progress, you can set up a one on one weekly discussion about your goals and workflow.

Have A Neutral And Clear Tone To Start Off
It is a great idea to keep the tone of your communications and emails neutral and clear. Try to avoid using too much jargon, emojis, and abbreviations. Pay attention to how your team members and manager communicate with one another and use that as a guide, especially for the first days and weeks. When you are speaking to someone and writing a note, you need to make sure that you communicate clearly and comprehensibly. During a conference, audio, or video calls, speak properly about what you want to ask and discuss and clearly complete your sentences.
Starting a remote job at a time when your team members and managers are also getting used to working from home and dealing with a global pandemic can be stressful and complicated. It might take time for you to get comfortable with your work. There are, however, proactive ways you can make this transition simpler and effortless. People need flexibility, time, and a lot of patience to feel like part of the team.
If you are searching for full stack developer jobs or any other jobs in different fields and industries, you have to just visit Swith.Do to get a start at your new career.